| | |
| --- | --- |
| Posted on January 6, 2020 at 3:35 AM | |
Happy New Year! Hope everyone had a gorgeous Christmas with your family and friends. We certainly did. We had family out to the farm and despite the heat had a delicious outdoor lunch (thanks to some shade cloth and an industrial fan)
I missed the update for the start of December, but January's update couldn't be more different to November's photos. It's been hot, exceptionally hot, and we've had virtually no rain - i think there was 7 ml at the start of December and that's it. The farm has really suffered. Out of 8 dams at the front of the property only three have any water in, and those are drying up quickly. Muzz has devised emergency trough filling stratagies and we had an excavator come in and dig through the base of the Ten Mile Creek to find the underground water, so we effectively have a dam in the bed of the creek. 
On New Years day there was a lightening strike in the bush near Talmalmo from a dry storm that went through. The super heated northerly winds coming from central Australia saw temps climb to 46.6°C and wind gusts reag 49km/hr. That lightning strike became the huge Green Valley fire. A week later the fire is still burning both in NSW and Victoria. It's burnt over 180,000 hectares and just today has merged with both the Ournie and Dunn's Rd fires. I've documented our experience both on Facebook and Instagram (@dungarron) if you're interested to see.
We are not in any immediate danger, though we are are ready to exacuate if necessary and have a plan for both our cattle and the ponies. As a precaution we have moved all our important personal things out, but even though the western fire front is only 15km away, it is well in control at this stage. My husband is heavily involved in the RFS as a Group Officer and has been acting as a divisional commander since day one. If he tells me to organise to go, plans will be enacted and we'll be out of here. Because of the water situation we have no way to defend our home. Thanks drought. We'd really like you and fire to piss off now!
Anyway. Here's some pony photos. We've been smoked in for three days. Vision is down to about 100m. I couldn't see the mare mob on the creek, so i had to call them up for hay. The smoke is so thick and damaging i have been trying to do absolutely nothing to cause any kind of stress, so having them all come galloping wasn't ideal. But they did, and as always it's a beautiful sight. Despite having to squint through the smoke!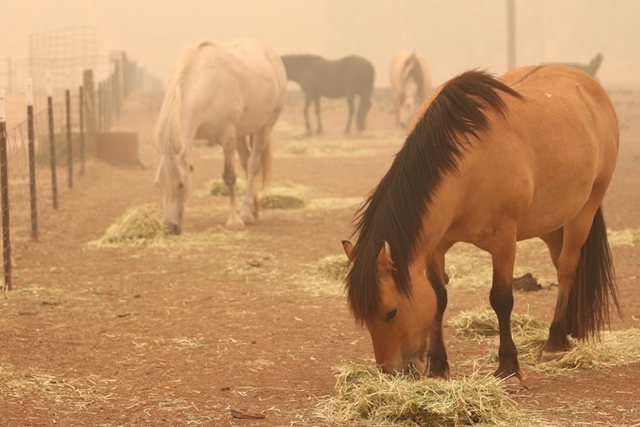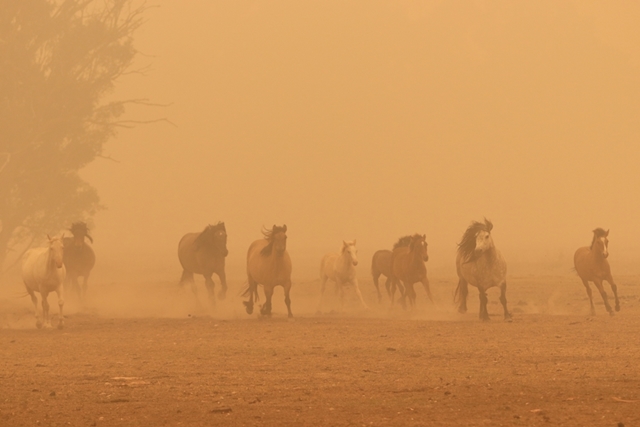 Categories: None